NEWS
Cameron Mathison Predicts DWTS Winner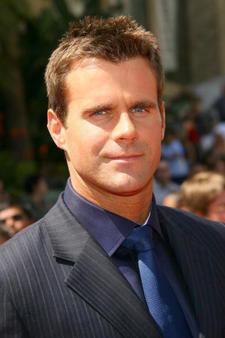 Dancing with the Stars alum Cameron Mathison and Edyta Sliwinska made it to fifth place in last season's competition. Now he's predicting that his former partner, who's currently dancing with NFL Man of the Year Jason Taylor, will make it all the way to number one.
"It's a no brainer," Cameron told OK! at Discovery Network's TV upfront last night in New York City. "I think he's doing a phenomenal job. He's a really good dancer, and I think they have a good dynamic together."
Article continues below advertisement
Cameron points out that the six-time All Pro is the shy underdog who's primed to take it all. "Kristi Yamaguchi is extremely talented and the obvious frontrunner, but you got to remember, the obvious frontrunner never wins," Cameron cautions. "It's going to be Edyta's year and she deserves it."
As for who he'd like to see next on the dance floor, Cameron, who's hosting a new TLC game show, Your Place or Mine, gives thumbs up to fellow TLC host and Bachelor alum Bob Guiney. "I want to see his Paso Doble," Cameron laughs.
Asked if he was up for the challenge, Bob replied, "I can promise one thing, I won't be taking off my shirt as Super Cam did. Cameron propelled himself into the final five by taking off his shirt!" By Delaina Dixon