NEWS
Cameron Mathison Rooting for Susan Lucci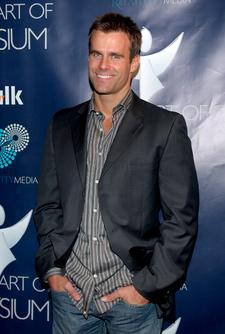 Considering the fact that Cameron Mathison has been a part of the All My Children cast since 1998, who he's rooting for on this season's Dancing With the Stars should come as no surprise.
"Susan Lucci," he says when OK! asked who wants to win the reality TV competition at the Sleeping Beauty 50th Anniversary Platinum Edition Blu-Ray and DVD release this weekend in NYC.
"We worked together on All My Children, and I think she's an incredible woman," he adds. "She's an important person in my life, and my friendship with her and her family. I'm behind her all the way."
Article continues below advertisement
As for which Disney character he relates to, the family man says his choice is a little hard to admit.
"This is going to be a bit embarrassing, but my son tells me I'm like Gaston," he tells OK!. "I don't even ask why it is. I think he's ridiculous, and I hope my wife doesn't agree that I'm like Gaston, but I've always found him really funny and completely out of his mind. I'm a big goofball, so sometimes I'll go over the top like that."
However it sounds to us like Cameron's wife would see him as more of a Prince Charming.
"I just wrote a series of gratitude cards and left them for her around the house," he shares with OK!. "Things that I'm grateful to her for. Simple things, but a little bit more personal. It's saying 'thank you for all these things, and I feel so many of them.' I wrote several cards and left them around where she'd find them so she'd know how many ways that I'm grateful."
Everybody togther now: Aww!