NEWS
Cameron, Mike, Antonio Tout 'Shrek Forever'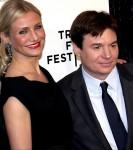 When Cameron Diaz swans down the green carpet for her Shrek Forever After premiere held Wednesday during NYC's Tribeca Film Festival, she stuns with her gorgeous red lip.
The actress, 37, turns heads everywhere she goes amongst a crowd that includes the 3D cartoon's voiceover stars Antonio Banderas (with svelte, sexy, dressed-down wife Melanie Griffith), Mike Myers, Eddie Murphy in addition to Real Housewives of NYC star Kelly Bensimon, Robert DeNiro, Kelly Choi and Zach Braff.
Article continues below advertisement
What is Cameron really like?
"She's lovely," Mike Myers says. "She's as beautiful on the inside as she is on the outside. She's elegant but she's also a broad. And she's funny and silly. I love how silly she is. She is very, very serious, but she never takes herself seriously. And, she's not as tall as she seems!"
Director Mike Mitchell agrees.
"She's the sweetest kid in the world," he tells me. "And so open and energetic. She's very funny. She's hysterical. She came up with own lines in this, just from playing around. Some of her funniest lines Cameron came up with herself."
Although the blonde bombshell has been linked to Justin Timberlake and Alex Rodriguez recently, the director attests that her true love is her two dogs.
"I've never heard anybody talk so sweetly about anyone more than these two little pups that she loves," he says, admitting they have funny names he doesn't remember. "She loves her puppies."
He says Cameron would "absolutely" make a good mom.
"She is the funniest fun person I've ever hung out with," he tells me. "You can't help but grin and smile when Cameron is in the room. She's amazing."
Article continues below advertisement
Here comes Antonio and Melanie. She graciously declines interviews, but she looks incredible. Very svelte and beautiful.
"I'm very proud," Antonio says of his wife's presence.
What's their secret to a happy marriage?
"Believe in the person that you love," he says.
Mike Myers tells what makes the Shrek franchise endure.
"The message that you are beautiful and that you should love yourself unconditionally -- hold yourself to a high standard but love yourself unconditionally," he says.
He continues, "The first time I saw Shrek and I heard the line, 'But you are beautiful to me' in the first one, I said 'they did it.' I heard people crying, and I thought 'they've done it.' They've managed to have an amazing delivery system of a great idea. I liken it to Flintstones vitamins. When you have a little kid, you don't have to tell them it's good for them, they just think they're eating Barney and Dino and that it tastes like marshmallows. That's my favorite way to get a great message across."
Article continues below advertisement
Psst: The director calls Shrek Forever After "the most female empowered movie of all time."
It's just another day for Shrek castmates Cameron, Mike, Eddie and Antonio, who noshed on a tasting platter of sautéed shrimp with snap peas, Chilean sea bass with glass noodles and ginger-encrusted seared salmon prepared by Chef Xuan Pham at NYC's Le Colonial before zipping over to the premiere. Mmm, delish!