NEWS
Camila Alves Is Always a Hands-On mom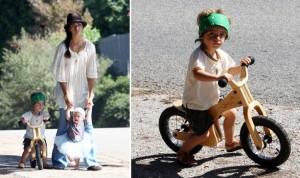 We can't imagine a more relaxed celebrity couple than Camila Alves and Matthew McConaughey — and that laid-back approach to life is evidently translating to their kids, as well! Camila hung out with son Levi and little daughter Vida yesterday in Malibu, and all three sported the family's signature casual style. Vida even wore a beanie hat to complement her T-shirt and tutu!
OK! GALLERY: MOMMY CAMILA & MCCONAUGHEY MUNCHKINS VISIT MATT ON SET
Article continues below advertisement
Matt's life motto is "JKL" — or Just Keep Livin' — and it seems the entire family has adopted that way of life as well!
OK! POLL: WHICH MATTHEW MCCONAUGHEY AD SUITS THE ACTOR BEST?
While Vida's big brother scooted around on a little wooden bike, mama Camila kept a firm grip on her youngest as she tried out her little legs.