NEWS
Camille and Kelsey Grammer to Officially Divorce Today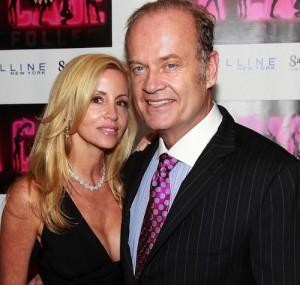 Maestro, strike up the band! Or, in this case, sadly the divorce papers. The highly publicized divorce papers of Camille and Kelsey Grammer are set to be signed today. Their 13-year marriage will become officially caput with its swiftly moving proceedings. Considering Kelsey already has the wedding date set to get re-married on February 25, it looks like time was of the essence!
OK! NEWS: KELSEY GRAMMER REACHES QUICKIE DIVORCE DEAL WITH CAMILLE GRAMMER
Article continues below advertisement
According to TMZ, Kelsey's lawyer originally asked the judge to grant an immediate divorce decree. This means the property settlement issues could be determined at a later date. At a hearing last week the judge didn't issue the decree because specific issues weren't resolved.
OK! NEWS: KELSEY GRAMMER ALREADY SENT OUT INVITATIONS FOR FEBRUARY WEDDING RECEPTION?
Alas, it appears lawyers for both sides have now come to agreement on prerequisites for the immediate divorce and as such, the decree will be issued today. It will allow Kelsey to marry Kayte Walsh within a few weeks. Camille was actually invited to the lavish event on Feb. 25 but declined.