NEWS
Camille Grammer Files For Custody; Kelsey Only Wants Son?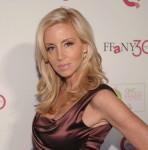 In the very public tug of war that is their custody battle, Camille Grammer has filed for custody of her son and daughter but apparently ex-husband Kelsey Grammer only wants custody of their son! If Kelsey gets his way, their daughter will remain in California with Camille and the son will go to Chicago to be with Kelsey. Find out more after the jump!
OK! NEWS: ENTIRE CAST OF REAL HOUSEWIVES OF BEVERLY HILLS WILL RETURN NEXT SEASON
Article continues below advertisement
An April 29 letter obtained by TMZ stated, "Kelsey proposes ... Kelsey shall have primary physical custody of Jude and Camille shall have primary physical custody of Mason."  Although the letter also indicated which parent would get the kids on holidays, according to TMZ it also specified that Kelsey wanted to enroll six-year-old Jude into a Chicago school, his lawyer retorted that it's "inaccurate."
OK! NEWS: CAMILLE GRAMMER SAYS KELSEY WAS "TOO BUSY WATCHING FOX NEWS" TO CUDDLE
His representative, Stan Rosenfield told TMZ, "Despite the fact that those connected with Camille Grammer seem to be hand delivering confidential documents to TMZ and other media outlets, we will continue not to make public statements about their private matters which can and apparently does beg for misinterpretation."