NEWS
Camille Grammer on Kelsey Grammer Cross-Dressing: "I Didn't Say It"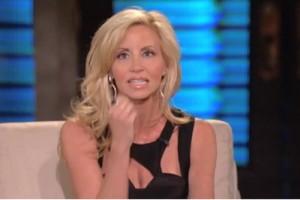 Camille Grammer is all over the news for her messy divorce from Kelsey Grammer. The reality star is running the gamut of TV and radio interviews, stopping by Lopez Tonight Tuesday to chat with host George Lopez. During the interview, Camille opened up about her divorce from Kelsey and the Real Housewives of Beverly Hills finale.
George and Camille chatted about her recent interview with Howard Stern, where her answer to a question from the shock jock implied that her estranged husband likes to cross-dress on and off stage.
Article continues below advertisement
"I didn't technically say it," Camille said laughing as George showed a picture of himself dressed as the other Kardashian sister, getting a big rise out of the audience.
When asked how she is making it through this difficult time, Kim explained: "My kids keep me strong. I think I do it for my family and my kids."
She also shared that she feels Kelsey was supportive of her doing Real Housewives of Beverly Hills because he wanted a way to distance his wife.
"Keep me in California while he was busy....rehearsing his play in New York," she said as she indirectly made reference to his new life with his new woman in new york.
As far as getting married again, Camille said she is over it.
"I don't want to get married again. I need time."
She also revealed some dirt on the Real Housewives of Beverly Hills finale: She and Kelsey attend the Tony's and she finds out he wants a divorce as Kim and Kyle Richards have a huge blow-out in a limo. Sounds pretty accurate!
Article continues below advertisement
Kelsey was recently on the Late Show with David Letterman and shared some details about his upcoming nuptials to new fiancée Kayte Walsh.
"The kids seem to be doing okay. We've been spending quite a bit of time with them, Kayte and I. Kayte's my new girl. We're planning to get married soon," he told the host, who quickly asked when the wedding will take place.
"Sometime in February, we think," Kelsey responded.
Catch a wide-eyed Camille chat it up (keeping her spirits high) with George in the clip below.