NEWS
Camille Grammer Not Granting Kelsey Grammer a Speedy Divorce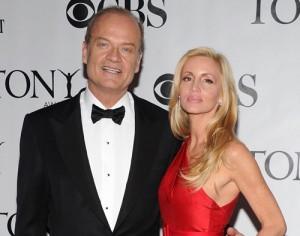 There is no wrath like a woman scorned. Camille Grammer is not letting her estranged husband Kelsey Grammer off the hook that quickly. The Real Housewives of Beverly Hills star has fired back at Kelsey's request for a speedy divorce.
According to TMZ, Camille responded to Kelsey's request for a speedy divorce decree, asking the judge presiding over her case to reject the Fraiser star's inquiry.
Article continues below advertisement
Camille's declaration, obtained by TMZ, maintains that Kelsey is asking for a speedy divorce "solely for the reason that he intends to remarry as soon as possible."
The statement from Camille adds, "I don't believe this is a sufficient reason to prejudice my rights to the community estate."
The documents continue to find faults with Kelsey's request for the divorce decree, which would allow for the marriage to be terminated, but requires the property settlement to be discussed at a later time.
Yesterday, Camille also took a jab at Kelsey while chatting with Howard Stern, strongly insinuating that the actor — who starred in the cross-dressing Broadway show La Cage aux Folles — enjoys dressing in women's clothes in his private life.