NEWS
Camille Grammer Reveals Taylor Armstrong's Alleged Abuse on 'Real Housewives of Beverly Hills'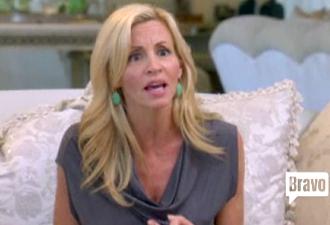 Taylor Armstrong and Lisa Vanderpump got into a heated argument about their "friendship" on last night's episode of The Real Housewives of Beverly Hills. When Taylor wanted the other girls to back her up, Camille Grammer ended up revealing Taylor's secret about her marriage.
Taylor wanted all the housewives to "start being honest" with each other and "say what they mean."
"I don't think you want to put everything out there," Camille warned on Bravo's RHOBH. "You said everything. Be careful what you say in that because we're all protecting you."
Article continues below advertisement
"About my marriage," Taylor asked.
"About what you told us about your marriage," Camille explained. "We've been protecting you. Beacuse we don't say that he hits you. Because we don't say that he broke your jaw. Or that he beat you and he hits you. We don't say that, but now we said it."
Taylor's husband Russell Armstrong committed suicide before the premiere of season two of The Real Housewives of Beverly Hills. Following his death, Taylor came out alleging that Russell had abused her during their marriage.
Do you think this clip should have stayed in the show or been removed Russell's tragic death?
Watch a clip of fight, below.