NEWS
Can Dr. Phil Save Farrah Abraham? Watch Their Drama-Filled Interview!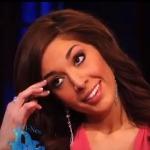 Farrah Abraham recently went from reality star to sex video vixen. Now she can add appearing as a guest on Dr. Phil to her list of recent accomplishments.
Here's a preview of the Teen Mom with her parents discussing some of the controversies plaguing their lives.
Article continues below advertisement
And when talking about her March DUI, she defends herself by insisting she "drove around a corner and parked."
"So you were driving drunk?" asks Dr. Phil.
Watch: Farrah Abraham's Sex Tape Partner Dishes Their Behind-the-Scenes Secrets
"I was actually parked, so no I was not driving drunk," responds a flustered Farrah.
But now the full interview (or most of it, anyway), has hit the web and, honestly, it only gets worse. Watch the super awkward encounter that Farrah has with Dr. Phil here where she gets super defensive and rude to him when he talks to her about her DUI:
Farrah complains at one point that she's sorry she came on the show, but a lot of people are happy she did and were excited to watch. Chelsea Houska's dad Randy says he doesn't usually tune in, but he will for Farrah. "Ummm yeah," agrees Kailyn Lowry on Twitter.
Photos: Farrah Abraham Caught Partying in a Club Wearing Only Lingerie!
So did Farrah's time on Dr. Phil help? In a tweet from this morning, she sounds like a changed woman, but it's hard to tell if she is serious or being sarcastic:
Do you think Farrah was being irrational and rude? Can Dr. Phil help Farrah or is she doing just fine in your opinion? Tell us in the comments section, on Twitter @OKMagazine or on our Teen Mom Facebook page.