NEWS
Candace Cameron Bure's 'Full House' Brings Joy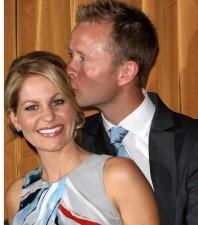 Candace Cameron Bure is all grown up.
The actress, who played likable teen D.J. Tanner on Full House from 1987-1995, now stars on ABC Family's Olympic gymnast drama Make It or Break It (which airs Mondays at 9/8c) as a mother figure to her ex-boyfriend's daughter.
It's a perfect role, considering in real life Candace, 33, is mom to Natasha, 11, Lev, 10 and Maksim, 8, with retired L.A. Kings hockey star hubby Valeri, whom she married in 1996.
Article continues below advertisement
In fact, Natasha is the same age as Candace when she began appearing on Full House, playing the big sister to Jodie Sweetin and Mary-Kate and Ashley Olsen's characters. Unlike many former child stars, Candace wouldn't mind if her daughter followed in her footsteps.
"My daughter's dabbling in showbiz, and she's done a few commercials," Candace tells me. "She's auditioned for some movies and shows, so I'm letting her pursue that. I'm OK with it."
But Natasha doesn't get all the attention.
"One of my boys is playing hockey, and he just scored a goal in his last game," she says. "My other two compete in tennis and they're doing quite well. Sports and school are the priorities."
For Candace, kids are precious, but she's finished adding to her family.
"We're done. Would I like more? Sure. I would love more. But we're finished. As my husband would say, when we travel and rent a car, we can all fit in a normal-sized car and not have to get an SUV for five seats. It's all about the car."
Article continues below advertisement
Although the kids devote time to their hobbies and interests, Candace and Valerie keep them on track with a list of house rules.
"We turn off the TV, video games and computer – except for homework -- during the week," she says. "The TV's reserved for Friday night, Saturday and Sunday just because that's the time to do homework, and it makes it that much less chaotic in our house. Exercise is a huge part of our home, too, and making sure that their bodies get what they need, also, physically, because that helps them to relax and for them to do their schoolwork all the better."
Eating healthy is another priority in the Bure household.
"My husband does most of the cooking at home," she says. " I do a lot of the sides and the salads, but if I make something, it's probably soft flour tortillas – tacos, or I'll make meat loaf. My husband does a lot on the grill. He cooks. He's a great chef. But if I'm making something, it's probably going to be end up being bean tacos. We don't fry anything – it's just ground beef, lettuce, tomato and salsa."
Article continues below advertisement
Keeping their marriage strong is one gift they give to each other – and to their children.
"Lunch dates are huge for us," she says. "We do a lot of lunches because the kids are all in school, and it's the perfect time. On days I'm not working, we do lunch dates. We try to do a lunch or dinner together once a week, just the two of us, to talk, go through the week, go through schedules and just have alone time."
Their secret to wedded bliss lies in spirituality.
"Our marriage is grounded in the word of God," she says. "That's really it. God is the core of our marriage, and the foundation and the blueprint for it is how we live, and being open and honest and communicating, but ultimately doing what pleases God, and not in a selfish manner."
Candace admits parenting has its rewards and its challenges.
She finds the boundless love she has for her children to be most rewarding.
Article continues below advertisement
"It's amazing. My kids have grown me in ways I never knew possible. The patience I've received and the love I get from is just amazing."
Still, having three children with "very different" personalities poses issues.
"It's hard to parent individually because there's not one set formula that works. Different things work for different kids, and it's finding the balance and the right techniques that the kids respond to."
Luckily big brother Kirk, 39, is just a short drive away. He's now a father of six with wife Chelsea Noble, whom he married in 1991. The cousins get together frequently.
"They get to see them more often now that we're back in Los Angeles, which is great," she says. "My family, we're all very, very close. I have two sisters as well that have children. It's great to be back in L.A. and spend a lot of time together."
Article continues below advertisement
Kirk has always served as Candace's role model, and one highlight was watching his rise to fame on Growing Pains, which aired from 1985-1992.
"It was fun growing up," she says. "It was funny to see so many girls going crazy over him when I was 16, 17, 18 years old, and we just laughed and thought 'what are these girls thinking? That's my brother.' No one's brother is that cute to them. It was really fun to see it and fun to experience what he went through and the places he got to travel -- sometimes we got to go, too. It was always a family effort, so it was really fun."
The siblings have recently been in the spotlight due to the tragic passing of Kirk's Growing Pains co-star Andrew Koenig, who was found dead in Vancouver's Stanley Park February 25 after his family reported him missing. Hours after his father's announcement that Andrew commit suicide, Candace Tweeted "Heartbreaking. Our prayers go out 2 his family."
Kirk offered his support soon after the actor who played his buddy Richard "Boner" Stabone on the show went missing by issuing a statement saying, "I am praying for his family during this time of distress and for his safe return. Andrew, if you're reading this, please call me. Mike and Boner could always work things out when they put their minds to it. I'm praying for you, pal. Hope to hear from you soon."
Article continues below advertisement
Soon after his old pal was found dead, Kirk told Access Hollywood, "It is with great sorrow to hear about the final outcome of the search for my old friend Andrew. I hope everyone will be sensitive to the Koenigs and give the family some private time to reflect and to grieve the loss of their beloved son. At a time like this, we all are reminded of the briefness of life and the importance of being ready for our eternal destination. My prayers will continue to be with Andrew's family."
Candace credits that strong family foundation with keeping she and Kirk out of trouble during their heyday.
"We stayed away from all the parties and the events," she says. "We didn't go to very many events, so going to work and doing the show was our job. My parents kept us away from all the other stuff, so what we focused on is what is important to me today, which is my family, my friends and working hard. That other stuff, I think because my parents didn't place an importance on it, didn't become something I desired to do when I got older."
Article continues below advertisement
What was the wildest thing she did growing up?
"Probably get my belly button pierced," she says. "At 18, that was me rebelling – getting my belly button pierced, although it wasn't really rebellious. I wasn't a wild-and-crazy kid, but that was probably it for me. I was already 18, so I didn't get in trouble, but it certainly surprised my parents. A few years later I took it out."
While Candace manages her own full house, she doesn't see a reunion in the future for her Full House crew.
"I don't think it's going to happen," she says. "We haven't been in talks, but who knows. There's nothing on the horizon for a reunion, but I would be part of it, absolutely, if they wanted to do one. I had a great time being part of the show."
Although she is not close to Mary-Kate and Ashley, Candace occasionally checks in with Jodie and often talks to "the guys" – Bob Saget, John Stamos and Dave Coulier -- from the sitcom.
Article continues below advertisement
Of Jodie's troubles, she says, "I think we were all surprised. I don't think we thought that her life would take the turn that it did growing up as kids. I don't think we saw any of that coming. But I'm happy that she's on a good path and getting it together. I haven't talked to her in a bit, but I haven't heard that she isn't doing well, so I think she's doing well."
Candace prides herself in keeping strong family ties, and calls "keeping what's most important very close to you" her biggest life lesson.
"For me, that's my family," she tells me. "Nothing is more important than them. They're the ones that will stick with you and be there through the good times and the bad times. Keep your family close."
Candace's daughter, Natasha, can be thankful her mom is level-headed and wise as she navigates through Hollywood .
Here's my pic with Candace: