NEWS
Candy & Tori Spelling Reconciling "Privately"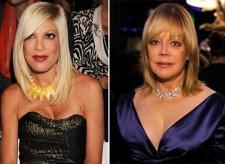 Although both Candy and Tori Spelling are public figures with TV shows (Tori & Dean: Home Sweet Hollywood and Bank of Hollywood, respectively) they've decided it's best to work out their problems with each other privately. But that doesn't mean Candy won't talk about it! "We both decided to take it privately and we are communicating, but privately," Candy told OK! at last night's UNICEF Ball in Beverly Hills. "I hope that everyone would respect that because it kind of got out of hand when it wasn't the other way."
Article continues below advertisement
Now that the formerly estranged mother-daughter duo are on speaking terms again, Candy's had the opportunity to meet her newest grandchild, Stella.
"She's adorable," Candy told reporters. She's bright. Well, they both are bright," she added of grandson Liam.
"They are the most beautiful children," Candy gushed. "But I'm not a prejudiced grandmother or anything. They know coming to Grandma's is like a fun place where we have a whole thing with just their toys and they get new toys. But I don't let them take it home. They have to play with it at my house."
While Candy wouldn't say whether her holidays will be spent over at Tori and hubby Dean McDermott's home with the grandkids, she told reporters, "I'm spending the holidays with my family."
Tis the season, after all!