NEWS
Cannes Film Festival 2011: Brad Pitt's 'Tree of Life' & Ryan Gosling's 'Drive' Main Events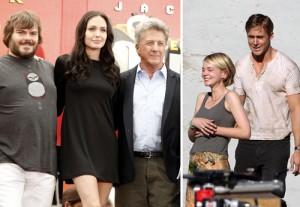 The official line-up for the 64th Annual Cannes Film Festival has been announced and the A-list crop of actors certainly doesn't disappoint.
The highly-anticipated Terrence Malick-directed flick The Tree of Life will debut at Cannes (which begins May 11). Brad Pitt stars in the film, which he helped produce, along with Sean Penn.
OK! VIDEO: WATCH BRAD PITT IN NEW TRAILER FOR TERRANCE MALICK'S TREE OF LIFE
Article continues below advertisement
And it will be a Brangelina affair as Angelina will also be promoting a film at the annual festival — Kung Fu Panda 2, along with Jack Black and Lucy Liu. But the animated flick won't be competing against The Tree of Life which is in the main competition.
Also in the main competition, Drive starring Carey Mulligan, Ryan Gosling and Christina Hendricks.
Other big names in the out-of-competition lineup includes Jodie Foster's film The Beaver, co-starring Mel Gibson, and Pirates of the Caribbean 4: On Stranger Tide.
Article continues below advertisement
Emily Browning
This Must Be The Place (2011)
Sean Penn
The Tree of Life (2011)
Brad Pitt (also a producer)
Sean Penn
Un Certain Regard (2011)
Martha Marcy May Marlene
Hugh Dancy
Restless (2011)
Mia Wasikowska
Out of Competition
The Beaver (2011)
Mel Gibson
Jodie Foster (also directed)
Anton Yelchin
Jon Stewart
Kung Fu Panda 2 (2011)
Angelina Jolie
Gary Oldman
Jackie Chan
Seth Rogen
Jack Black
Lucy Liu
Midnight in Paris (2011)
Rachel McAdams
Marion Cotillard
Owen Wilson
Adrien Brody
Pirates of the Caribbean: On Stranger Tides (2011)
Johnny Depp
Penelope Cruz