NEWS
Capri Anderson Previously Starred in 'The Celebrity Killer Vol. III: Charlie Sheen'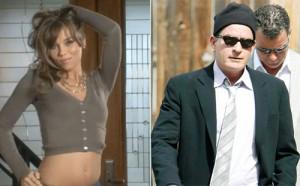 Capri Anderson, the porn star who was allegedly with Charlie Sheen at the Plaza Hotel, actually starred in a film last summer titled The Celebrity Killer Vol. III: Charlie Sheen.
OK! GALLERY: CHARLIE SHEEN'S PLAZA GAL PAL — PORN STAR CAPRI ANDERSON?
In the short erotic comedy by Caravaggio Films production, Capri seduces an actor pretending to be Charlie.
"Charlie Sheen: Now that's a guy who had the world in the palm of his hand and he still does. For he was a big movie star who loved hookers," the film's narration begins according to E! News.
Article continues below advertisement
"He was one of Heidi Fleiss' best customers and he didn't care who knew about it," the narration continues. "Charlie Sheen was honest when most people wouldn't be and he was rewarded because the public accepted him, as he will forever be known as Hollywood's likable bad boy... That's why I think guys like Tigers Woods could learn a thing or two from the Charlie Sheen handbook. So now, for your viewing pleasure, and mine, I'm going to give you a super sexy taste of what it's like to be the great Charlie Sheen."
OK! GALLERY: CHARLIE SHEEN GRINS LIKE IT AIN'T NO THING
When Capri, aka Christina Walsh, filmed The Celebrity Killer in July, director Renato Caravaggio told E! News "she wanted to get away from the adult-entertainment business."
After the film was wrapped in Las Vegas, Caravaggio said she moved to NYC.
"I don't think she knew Charlie Sheen at that point," he said. "She never mentioned anything at all."
Guess it's all just one big weird coincidence... or maybe the Plaza was the sequel?