NEWS
'Captain America' Cast Convince Ladies to See Film for "Sincere Love Story" & "Chris' Chest"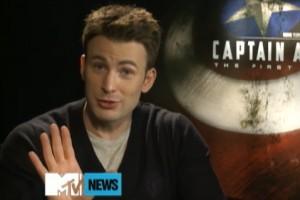 For the ladies who aren't quite sold yet on whether or not they want to see the new action film, Captain America: The First Avenger, allow the cast to try and sell you with the romance!
OK! NEWS: CHRIS EVANS SAYS HE HASN'T BEEN CALLED "CAPTAIN AMERICA" IN THE BEDROOM...YET
Captain America himself, Chris Evans, thinks the romance in the film is strong enough to attract ladies to the box office.
"I gotta be honest, compared with the majority of superhero movies that I've seen, I think we do a really good job establishing a romance," Chris told MTV News. "I don't want to give too much away, but I will say everything else in the movie aside, the one thing I think they really did right was the romance."
Article continues below advertisement
OK! VIDEO: WATCH CAPTAIN AMERICA TRAILER FEATURING THE HOT CHRIS EVANS!
And his love interest, Peggy Carter (Haley Atwell), agreed with Chris.
"It's got a strong, sincere love story running through it," she said. "Captain America has a sincerity. He's earnest, and there is a vulnerability about him. He's not your typical testosterone-fueled man."
But Sebastian Stan had the best reason of all!
"I feel like you can drive a car on Chris' chest, so maybe that?" he said. "That might help."