NEWS
"Cardiac Event" Ruled as Reason for Macho Man Randy Savage Death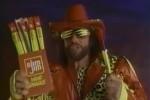 When wrestling giant Macho Man Randy Savage suddenly passed away due to a heart attack while driving, he stunned the world. Medical examiners ruled that he died from a serious "cardiac event" a few moments before he drove his car into a tree in May.
OK! NEWS: MACHO MAN RANDY SAVAGE DIES IN CAR ACCIDENT AFTER SUFFERING HEART ATTACK WHILE DRIVING
Randy apparently had cardiovascular disease and the cardiac event was a result from his condition, as reported by TMZ. Although the toxicology report indicated he tested positive for alcohol and hydrocodone, an opiate, when he died, neither one was the reason why he died.
Article continues below advertisement
OK! NEWS: HULK HOGAN UNDERGOES BACK SURGERY
Randy's brother initially indicated the wrestler had a heart attack before the accident, thereby causing him to lose control of the car, beer across a concrete median through oncoming traffic and eventually collide with a tree.