NEWS
Carly Says Jason's Not As Sick As Feared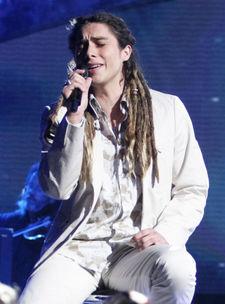 Jason Castro fans can breathe a sigh of relief. Carly Smithson says that reports about his illness have been over-exaggerated.
The American Idol studios were inundated with gifts and get-well messages last week after rumors spread that the 20-year-old finalist was suffering from exhaustion and a fever.
But Carly, known as the designated 'mom' among the Idol contestants, told OK! that although he was sent to the doctor two days before his last performance, she thinks his problem was nothing more serious than a sore throat.
Article continues below advertisement
After fans claiming to have information from 'inside the Castro camp' reported on a Web site that Jason was suffering from exhaustion and a fever, his supporters raised $450 online to send him gifts and get-well wishes.
On Thursday, the 'Dreadheads' sent Jason three car-loads of balloon printed with messages like 'Get well soon' and 'Thinking of you.'
But Carly, who last saw the Texan contestant on Wednesday night after she was eliminated, said that she thinks it is unlikely that he is suffering from such a serious illness.
"I think he had a sore throat the night before the show on Monday night," she said.
"I think he maybe went to the doctor on Sunday night.
"But we've all been to the doctor.
"I don't think it's a big deal -- he didn't seem like he was suffering from exhaustion on Wednesday night."