NEWS
Carmen Electra Entertains The Troops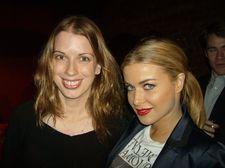 Carmen Electra shies away from PDA with fiancé Rob Patterson during USO Salute To Our Troops Welcome Home Reception held at NYC's Hard Rock Café.
The brunette bombshell picks up the controls for Guitar Hero 3 and a serviceman joins her for a jam session. With her concentration sharply focused on the game – and injured war veterans -- Rob decides he's had enough. "Screw this," he says. "Let's go smoke."
Article continues below advertisement
Moments before, Carmen, 36, shows me her rock from the April engagement. It's onyx!
"It's so different," she says, twinkling her fingers. "I love it. It's goth."
She tears up when talk turns to wedding plans.
"We haven't even had any time, to be honest, literally between both of our schedules and traveling," the kind, friendly hostess with the mostess says. "We just worked on a show to celebrate his birthday, on E!, and that was really fun. We were trying to plan a party, pick a party planner. That was interesting. I just shot a bunch of shows for MTV, so we were in Italy for a while, and I was on tour. It's called Chart Blast. It's counting down the top 100 special effects video, pop star's favorite rock videos of all time. Stuff like that. Just traveling."
Traveling is what she relates to most when it comes to our troops.
"I'm just showing support for the troops and the wounded soldiers and their families. It really brings you back to reality and the traveling of it all. All the superficial stuff."
Alas, Rob must not mind that he's sharing his fiancée with the troops tonight because he has alone time booked for later, and it's sure to be total eye candy. After all, Carmen is designing a lingerie line that will include sexy goth wear.
"I love Agent Provacateur, Coco De Mer," she says. "I get into collecting lingerie and corsets. Obviously not panties."
Until then, Carmen gamely entertains the troops, who are enjoying shrimp, Monte Christo ham and swiss, slider burgers, baby hot dogs, chicken skewers in Thai peanut sauce, reuben sandwiches, hot pretzels, petite knish and Sabrett's "dirty dogs" – street meat style.