NEWS
Carmen Electra Shakes Things Up as Svedka BOTender!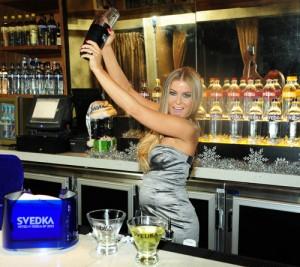 It's never too late to learn a new skill! On Thursday, Carmen Electra had the pleasure of becoming Svedka Vodka's first ever BOTender! Carmen hung out and mixed up some cocktails in L.A. at Boudoir, and looked sexy and sassy while she did it!
Wearing a cute Svedka Santa hat, Carmen really shook things up, making fun and futuristic holiday cocktails including the Jingle_Bot and Santa_Bot (see recipes below), alongside Svedka expert mixologist Ryan McTavish.
MORE ON:
OK Galleries & Photos
Article continues below advertisement
She didn't stop there — after all the drinks were ready, Carmen headed into the DJ booth to spin some holiday tunes!
Make your own Svedka holiday fun with these recipes!
JINGLE_BOT
3 parts SVEDKA Vodka
3 parts Sour Apple Schnapps
3 parts apple cider
Shake ingredients over ice and strain into martini glass.
SANTA_BOT
2 parts SVEDKA Vodka
4 parts Cranberry Juice
1 part fresh lime juice
1 pinch chili powder
Shake all ingredients over ice, strain into martini glass