NEWS
Carnie Wilson: Don't Call Jessica Simpson 'Fat'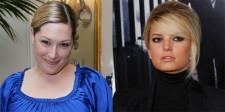 During an event to promote her appearance on The Dr. Oz Show (which airs today), Carnie Wilson said she feels like "throwing up" when Jessica Simpson is called "fat."
"I think Jessica Simpson looks great, and this is why we have a serious problem," the Unstapled star, 41, tells me. "When Jessica gets called 'fat' it definitely contributes to the problem of weight issues and pressure that women — and now, unfortunately, young girls — feel, the pressure that they have to look a certain way."
Article continues below advertisement
She continues, "When the media follows somebody like Jessica Simpson go up 20 pounds or so, I just say, 'Welcome to the real world.' Most women in the country would strive to look like Jessica Simpson at her heaviest weight."
The Wilson Phillips singer (who wed Rob Bonfiglio in 2000) experienced gastric bypass surgery in 1999, which led to a 150-pound weight loss. But her weight ballooned after she gave birth to Lola, 4, and Luciana, 7 months. She admits she gained 70 pounds during her first pregnancy and 60 pounds during her second. Her starting weight was 170 pounds each time.
"The lowest weight I've ever been was 146 pounds, and that was for a very brief time. My comfortable weight that I had maintained for a couple years was around 153 pounds."
Being thinner changed the way others perceived her – and her perception of herself.
"Ten years ago, it was the miracle of losing all that weight, and I actually accomplished it," she tells me. "I was so physically different after losing all that weight that the attention was so much on the physical. Obviously, all my comorbidity had disappeared, so I really saved my own life there. I feel like that happened so quickly that the relief was immediate, but then it turned into, 'God, you look so good; wow, you look so different.' So I naturally focused on the sensational part of it. But at the same time, it was a drastic difference. I did look really different. I did feel different."
Article continues below advertisement
For Carnie (who won't reveal her current poundage), visiting Dr. Oz provided a wake-up call.
"When he told me I was pre-diabetic, I was actually in shock because I had just had blood work done," she says. "I get blood work every six months, and I'm very good at keeping up with that. All my blood work had come back completely normal, and not pre-diabetic. And still, to this day, I am not pre-diabetic. If that's what he wanted to call me, that's fine, but I am not pre-diabetic. My glucose levels are within a normal range, and they have been. They were when I was on that show."
She continues, "The show was very dramatic in the sense that we did speak about important issues, and the fact that he had labeled me morbidly obese really shocked me. If we get medical, if you break it down, if I fall into the category of morbidly obese, that's pretty shocking; so whether I have 65 pounds to lose, or 55 pounds,or even 45 pounds, if my Body Mass Index tells me there's too much fat on my body, then that's what it is. It was shocking, but he was straightforward. I don't think anybody would handle that easily. It was a real kick in the behind."
Article continues below advertisement
Getting alone time with Dr. Oz is something she holds dear.
"Dr. Oz is one of the sweetest people I've ever met. When he walked into the dressing room backstage, before the show, he took me and grabbed me and pulled me to him; he hugged me and kissed me and said, 'We're going to change people's lives by doing this,' " she reveals. "Nobody has ever done that in that manner before. I respect him tremendously. He told me some news that I didn't want to hear, but I'm really grateful he did it, and I know he's right. I also appreciate that he didn't put me on a pedestal for being in the public eye, and that he sees me like any other person and it's not Hollywood s***. It's about 'I need to live a long and happy life,' and that's what that man is trying to get across. I'm very lucky to have him help me."