NEWS
Carnie Wilson's Weight Loss Plan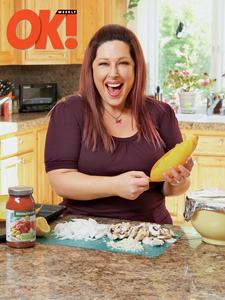 Carnie Wilson has endured a lifelong struggle with her weight. After gaining and losing, and then gaining again, the singer is telling OK! how she's finally not only shed the weight, but how she also plans to lose even more lbs. in her journey down from 208 pounds!
Wilson told OK! that she's shed another 17 lbs. since her last interview, which appeared in OK!'s June 23 issue. The star--who famously had gastric bypass surgery in 1999 which caused her to shrink from 300 lbs. to 146 lbs.--bravely admitted to OK! months ago that following the birth of her daughter Lola,3, she gained much of the weight back, finally reaching 208 lbs.
Article continues below advertisement
Then in June, that she had dropped back down to 193 lbs., this time by following a strict diet and excercise program.
And still seems to be working! Today, Carnie tips the scales at a much trimmer 176 pounds and says she is thrilled she lost a lot of the weight while doing her new CMT series, Outsiders' Inn, a sequel to Gone Country in which Carnie shares a rustic living experience with other stars including Whitney Houston's ex Bobby Brown, and The Brady Bunch's Maureen McCormick.
Incredibly, Carnie says she lost weight during the June TV shoot despite the fact that she was constantly cooking for her reality show castmates.
"I lost 11 pounds while we did it," she says. "I would taste and spit it out. I cooked really fattening food. I love feeding people."
But while living in the reality house, Carnies emphasized, "I made my tofu, my vegetable. I'm on this wonderful healthy path now."
Article continues below advertisement
The singer says she's come up with a lot of new low calorie recipes. "I'm doing a lot of squash soup and roasted yams with a little splenda, cinnamon, lemon juice and vanilla."
Carnie, who told OK! she wants to lose an additional 35 pounds, added, "I'm feeling so good, very energetic. I want to get pregnant again."
In the meantime, Carnie plans to start a clothing line for plus-sized women.
"I have a lot of really great ideas that women are going to be really relieved and happy about, inspired by my experience of being morbidly obese and all sizes," she says. "It's going to be beautiful."