NEWS
Caroline Rhea 'So Into Momminess'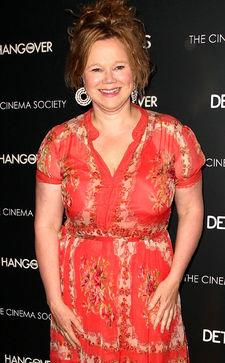 Caroline Rhea reaches into her purple purse to whip out a few 8x10 photos of her eight-month-old daughter Ava during a swank party held at NYC's Le Parker Meridien. In one, she's wearing brown teddy bear ears.
She introduces me to boyfriend and father Costaki Economopoulos.
Clearly, motherhood agrees with the Sabrina, The Teenage Witch star.
"I love it," the actress, 45, tells me. "It's my favorite thing I've ever done. She's the sweetest, loveliest … yeah. I guess I feel like somebody flipped a switch, and the whole world is in Technicolor now. It's very exciting. I'm very sappy about it, but I adore her. I'm so into momminess."
Article continues below advertisement
What precious moment can they share?
"She's bound to laugh at everything we say," Caroline says. "She's an excellent audience."
Costaki adds, "I feel so bad, because people go 'oh my God, she smiled at me.' I go, 'she smiles at everybody.'"
This summer, Caroline and Costaki look forward to taking Ava to the beach. "She's going to discover sand."
What makes him such a great dad?
"He loves it, and he loves her so much," Caroline says. "I have the tiniest bit of resentment. His material is doing better with her than mine is. Yeah. He goes for the laugh, and then he repeats it over-and-over and over again. Like the tickling. I can't stop squeezing her thighs. I can't."
They're also perfect for each other.
"We're both comics," Costaki says. "Tell her our rule. We have a rule: it's OK to be mean to each other as long as it's funny."
Caroline adds, "It's a very tricky rule. As long as it's funny. It's a very fine line."
As for wedding plans? Costaki yuks, "Yes! I need health insurance." Caroline slyly echoes, "He needs health insurance."');
}
document.cookie="access_type=1; path=/; expires=Mon, 01-Jan-2012 00:00:00 GMT";