NEWS
Carrie Ann Inaba Can't Say 'No' to Nachos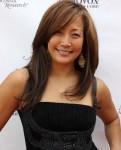 When Dancing With The Stars judge Carrie Ann Inaba craves something salty, she looks to the nacho cheese machine George Lopez gave her.
The 42-year-old dancer, who has worked with Madonna and Jennifer Lopez, can't get enough of the tasty treat.
"I love nachos," she tells me. "That's no secret. Nachos with the fake cheese and jalapenos. In fact, George Lopez gave me a nacho cheese machine, and I use it whenever I can. Whenever I know I'm not going to be on TV for a minute, I'll go and have my little nachos with cheese. It's so much fun. It reminds me of when I was a kid."
Article continues below advertisement
In fact, she admits nachos are her biggest diet challenge.
"I'm allergic to cheese and dairy," she reveals. "I shouldn't eat it, but I think because I wasn't allowed to eat it growing up, I have more of a taste for it, and I really, really love it and savor it when I do get to eat it."
She continues, "It affects my sinuses, and then I get sluggish and I don't want to work out. It's a spiral. I think a lot of people go through this. A lot of people are lactose intolerant, and it's the same thing. You eat it, and then your energy goes down, and then you feel uncomfortable and you don't want to work out. It's a downward spiral. When I can, I stay away from it, and I keep the energy up. But I do indulge because I don't want to live a life without. I think that's silly."
Typically, nothing can keep her from her beloved nachos, and she would ideally like to eat them as part of her last meal before she dies.
"I'm a snacker," she says. "I like all those little salty chips. They say it increases serotonin. Anything crunchy and salty – that's going to be my last meal."
But when she's feeling like a smart snack, Carrie Ann reaches for veggies.
"Yesterday I was tired, and I wanted carrots because they would feel fresh, and I would feel like I took a shower," she says. "Certain foods elicit certain feelings. I like cucumbers as well."
Article continues below advertisement
What's her attitude towards beverages like soda and alcohol?
"I do like Diet Coke," she says. " Since I was a dancer, I drank Diet Coke since I was very, very young. As far as alcohol, every once in a while, I'll have a glass of white wine. I don't like red wine – but I do like white wine. I think it's the same thing as watermelon – it's fresh and fruity. Everything in moderation, of course."
Here's my pic with Carrie Ann:
Pick up the OK! on newsstands now to get Carrie Ann Inaba's What I Ate Today feature. The cover line is "Kendra Betrayed: Sex Tape Scandals."