NEWS
Carrie Ann Inaba's Last Word Outtakes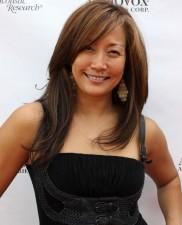 Dancing With The Stars judge Carrie Ann Inaba takes OK!'s Last Word interview in the issue on newsstands now.
I met up with the 42-year-old powerhouse during a Listerine Whitening event held at NYC's Alex Hotel. She was so sweet – she even complimented me on my circular necklace!
This is what won't you find in the magazine.
Last time you went to Hawaii?
I went to Hawaii a year-and-a-half ago. I was warm because I was in the sun, and I always lay by the beach. I got to see my family and friends. I was happy.
Article continues below advertisement
Last chore or errand you did?
I washed my dishes in my hotel because I'm staying here at The Alex, and what's so great is you have your own kitchen and your own dishes, so it makes me feel more at home when I'm traveling. That's why I always stay here.
Last time you spoiled your cats?
I have three cats, and my boyfriend has two, so now there are five cats in my home. The last time I spoiled them was the last time I saw them. laughs They love to eat Fancy Feast. To me, that's spoiling them. They love their Fancy Feast. The little delicatessen ones that you open, like Tupperware. You open it, and they come running. They like the tuna, and they also like the shredded chicken.
We just bought them a new comb. I was just talking to my boyfriend, and he was brushing them. Our cats are very important to us.
Last dream or nightmare you had?
I had a really interesting dream. I can't remember who it was. Oh God, I don't remember what it was. I wrote it down. It was somebody I was going to work with … it was a very strange dream. Often, I dream about work. For instance, the night before the Oscars, I dreamt about the Oscars and I dreamt about who I wanted to interview. Interestingly, one of the people I really wanted to interview was Keanu Reeves, and then we got him. We had never interviewed him before, so that was lucky. Or maybe it was fate – I don't know.
Article continues below advertisement
Last romantic thing your boyfriend did for you?
When I finished doing all my duties at TV Guide, it was the night of the Oscars, and I came home and I was done, and he and his daughter Kristen – they live with me – had dressed up in all these little fun things 'cause they knew I was really exhausted and it had been a long journey. He called himself Luigi, and he put on a little fake mustache, and little hat. They were dancing around. They had all these little signs, like 'hey baby, what's your number? I love you.' They were at the front door dancing when I came home, and they were dancing around. She had all these fake glasses on. They were being characters. It was so sweet.
I've never had a boyfriend who was supportive like that. It was exactly what I needed. It wasn't sexy, but it was so touching because it was really well-thought-out, and he really wanted to make me smile.
They both did. It was romantic in a family way.
Last thing you ate?
The last thing I ate was the clam chowder and the mozzarella basil salad. It was wonderful. It was fresh, but because it's cold out, I had the soup, which warms you up, and it's like a meal. I love soup 'cause I don't like to cook. It's so easy to prepare, and it fills you up and gives you all the nutrients you need. It's a well-balanced meal, but you don't have to do a lot of preparation.
Article continues below advertisement
Last time you laughed?
All day. When I'm in New York, I have a wonderful hair and makeup team. We've just been laughing all day today. In work, I believe that you really need to choose people that you get along with because work is life, so you may as well enjoy your time. I'm lucky. I have great people around me, and we laugh all day.
Last time you lied?
There's little white lies. We were signing autographs, and we said we had to go, but I probably could've stayed a little longer. But I did sign everybody's autograph. We were just trying to get to the next thing because we didn't want to be late, but the truth is, I could stay. That was a little white lie. But we did take care of everybody. I would never leave somebody standing there.
We just couldn't stay that long. For me, I would stay and talk to somebody for the rest of the afternoon, but unfortunately we had things we had to do.
Last time you saw your best friend?
Right before I left, I saw Marlene and I saw Kelly. My friend Marlene has a workout in her garage, she calls it the Garage workout, and she's been training a whole bunch of us. I was over there with two of my other closest friends, and we did a little workout. I was so sore the next day that I couldn't walk. cackles
Here's my pic with Carrie Ann:
Pick up the OK! on newsstands now for Carrie Ann Inaba's Last Word. The cover line is Kim Kardashian/Britney Spears: "Diets That Work."