NEWS
Carrie Bradshaw the Recessionista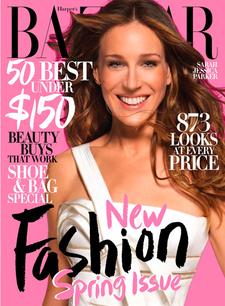 Sarah Jessica Parker is the first one to admit that her Sex and the City alter ego, Carrie Bradshaw, wouldn't fare well during the current economic recession. "She would probably end up in a hospital," the 43-year-old actress tells the March issue of Harper's Bazaar, on stands Feb. 17. "Perhaps she would go back to her '80s stuff and start bringing it out again."
Meanwhile, unlike her character, Sarah Jessica is no slave to style. In fact, when asked what she can't live without, fashion isn't the first thing that comes to mind.
Article continues below advertisement
"My son! My husband! Food! Oh, fashion? I don't know. A good bra?" she says, adding, "I don't have the Carrie Bradshaw passion and devotion to fashion, but I would much prefer that life would allow for a beautiful shoe all day long."
And although New Yorker SJP and Carrie Bradshaw are not one and the same, try telling that to a bus full of SATC fanatics driving through the city!
"Ah, yes, I run into it," she says of the SATC-themed bus tours. "There are times when it's totally terrific, and there are times when I'm like, Oh, God, I'd better run in the other direction. Especially when I'm with my son."