NEWS
Carrie, Rihanna, Fergie, Christina Get Ready For Grammys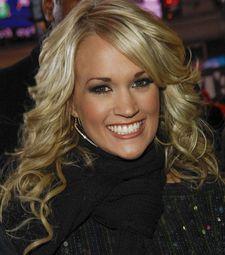 Carrie Underwood, Rihanna, Fergie, Christina Aguilera, John Mayer, Taylor Swift and Keyshia Cole hope to add Grammys to their prize closets after Sunday's ceremony.
How will get ready? "Whenever there's an event coming up, we hire a stylist to tell me what's cute because I honestly don't know," the four-time nominee tells me. "I walk around in my pajamas most of the time. I've had people tell me 'now Carrie, people are going to be wanting to look at you and they want to see you look glamorous.' I'm like 'that's not me! I can't do it.' Anytime there's anything important, we hire someone to come in and make me look cute." (She already has two Grammys!)
Article continues below advertisement
Six-time nominee is thrilled to be in the house with Beyonce, whom she idolized growing up. (They're actually going head-to-head in the record of the year category!) "The first thing I saw was her beauty, and then I listened to her music -- she's incredibly talented," Rihanna tells me. "I think she's what every female artist should strive to be. Despite all her success, she's still humble."
It'll be no sweat for Fergie to fit into her dress. "I get my food delivered to me," the best female pop vocal performance nominee tells me. "It's Diet Designs – its like the Zone. You go through 1,000 foods and you tell them which foods you like and which ones you don't. They don't include the ones you don't like on your menu. It's good – you get to eat!" (Yep, she already has three Grammys from her Black Eyed Peas days.)
Article continues below advertisement
Two-time nominee Christina, who gave birth to son Max January 12, tells me, "I'm at the happiest place I've ever been in my life." (She already has five Grammys!)
John says he thanks his lucky stars he didn't stick with the band growing up. "When you get to fifth grade, you get the band instruments," the best male pop vocal performance nominee tells me. "Some of the kids who stay in strings turn out a little weird. Then, I picked up the guitar. My experience was that I had to go home and do that." (Wow! He has five Grammys.)
Three-time nominee Nelly tells me her dream collaboration would be with Eminem. (Yep, she already has one too.)
Taylor, who is nominated for best new artist, tells me, "If I got a Grammy, it would be an amazing icing on the cake."
is up for best rap/sung collaboration and best contemporary R&B album.
"I'm surprised because I didn't think it would happen this year," she tells me. "I didn't think I put the work into it that was ready for the Grammy nominations. I like my slow process. I pray to God that the slow process continues to be as slow as it is because with the slow process, you are able to look at things every day and see what you want to do and what you don't want to do. Take your days slow. The fast thing is not my speed. I'm very blessed to have it so soon."
Article continues below advertisement
How much does winning music's biggest prize really mean? Just ask nine-time winner , who stashes them in her study.
"To me, more than anything, they're recognition of care – that I do care about the kind of music I put out and I care about the quality of it. It's recognition of hard work. Although I don't think about them and I don't notice them so much, but when I do, it's a nice feeling."
The 50th Annual Grammy Awards air on CBS beginning at 8pm ET/PT Sunday. Good luck, guys!