NEWS
Carrie Underwood Adds Puppy Love to Wedding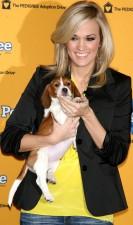 While Carrie Underwood has two special guys in her life – her fiancé, Mike Fisher, and her dog, Ace — she shows off her pup during the Pedigree Adoption Drive held Tuesday at NYC's Bideawee Manhattan Shelter.
"This is Ace, and he is such an important part of my life," she says as he licks her face.
OK! GALLERY: CARRIE UNDERWOOD'S CAREFREE PUPPY PDA
The American Idol beauty, 27, announced her engagement to Ottawa Senators player Mike, 29, in December, and intends to wed this summer.
Article continues below advertisement
Although she is "working on" choosing a designer for her wedding dress, she has a few dream dress details in mind.
"It's really pretty," she says. "It's in the very beginning stages, and it's very 'me.' It's girly, it's pretty, it's simple and glamorous."
While Carrie contends Ace will be in the wedding, she's not sure exactly where he'll fit into the bridal party.
"He's my kid," she says. "It would be like if I was getting married and I had a child. Of course, my child would be in the wedding. Of course, Ace is going to be in the wedding. He's such a big part of my life."
OK! VIDEO: CARRIE UNDERWOOD SHOWS OFF HER ACTING CHOPS ON HIMYM
She laughs, "He'll be one of the ringbearers. I don't know if I'll put the ring on him. He'd probably run away with it or eat it or something. That's probably not a good idea, but he will be there."
After the wedding, Carrie and Mike hope to add another pooch to their happy home.
"I definitely want another dog for sure," Carrie tells me. "It all comes down to travel and what's what, but if we got one, that one would probably be more Canada-based. Ace is so little. He's like motions this size, so he can go everywhere with me. If we got a bigger dog, it would be more of a challenge, but that's what you've gotta think about when you're adopting a dog. How much time you can devote to it, and do what's best for the dog."
Article continues below advertisement
OK! NEWS: WHY DID CARRIE UNDERWOOD WALK GRAMMY RED CARPET WITHOUT FIANCÉ MIKE FISHER?
What does taking care of Ace make her think of taking care of a child?
"Ace can kind of take care of himself, if I have to go somewhere, which is good, because you obviously can't leave a child all alone, but I definitely think I have some motherly instincts and hopefully he helps me get ready for stuff like that," she tells me. "Not anytime soon."
MORE ON:
Red Carpet Confidential
One way she shows off her motherly side is by calling attention to his hiccups on the way out. Aww!
"Basically, how could anybody not want this?" she jokes.
Along with Pedigree, Carrie donates $10,000 to the Bideawee Manhattan shelter in support of their continued efforts to find dogs loving homes. After all, there are four million homeless pups who would love nothing more than to cuddle up to an owner.
Article continues below advertisement
"It's so easy for people to get involved and so important, too," the "Temporary Home" singer says as a dog up for adoption is on display. "It helps this little girl and other little girls like her get food and find homes. Hopefully we can raise awareness and stop the problem from the beginning – get people to adopt and get people to do the proper pet care things that they need to be doing like spay and neutering so they'll never end up here. This is very important to me, and I'm so excited to be partnering with Pedigree Adoption Drive. It's been a wonderful experience."
She continues, "Fans can help out by going to facebook.com/pedigree and becoming a fan, of course, and adopting a dog, or donating money. There's all kinds of little things that they can do. Like, my mom volunteers at the local shelter. You can find ways to help anywhere. It can be small or as big as you want it to be."
CLICK HERE FOR MORE RED CARPET CONFIDENTIAL!
Here's my pic with Carrie:
and become a fan. For each new fan, Pedigree will donate a bowl of food to help feed shelter dogs nationwide.