NEWS
Carrie Underwood Calls Marriage "A Lot Like Dating"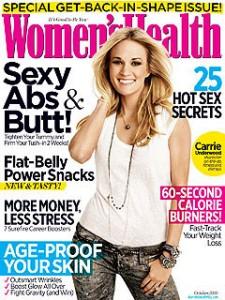 With how much we've seen Carrie Underwood flaunting her wedding ring all around town you'd think she'd be bragging about married life. But the country singer opens up to Women's Health magazine for their October issue and says marriage is actually just "a lot like dating."
OK! GALLERY: CARRIE UNDERWOOD FLAUNTS WEDDING BAND & KNEE HIGHS!
When it comes to talking about marriage, 27-year-old Carrie doesn't sugarcoat anything.
Article continues below advertisement
"A lot like dating," Carrie tells Women's Health about married life. "Sometimes our schedules will click, sometimes they won't. But that's good because we're both independent."
But it's not as unromantic as she may make it sound. Carrie and her husband Mike Fisher bond when they go to his games in Canada.
"I love going to games, cheering for my man," Carrie shares. "When I come home, I'm accused of picking up the Canadian accent!"
OK! GALLERY: LOVE IS IN THE AIR AS CARRIE & MIKE TAKE FLIGHT
But really, her idea of a perfect day is just as simple as she describes marriage.
"I'd sleep in a little, work out, do laundry, run errands, buy presents for people with birthdays coming up," Carried says. "I like it when I don't have to be anywhere, and anything I do is my choice."