NEWS
Carrie Underwood Fights to Keep Her Figure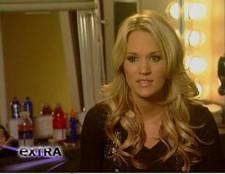 Even celebs have trouble staying fit sometimes! Carrie Underwood admits to Extra that keeping her amazing figure is not an easy feat. "This is an Underwood family tradition," Carrie, 26, joked as she poked her midsection.
"The rear... starts going in and out so I have to work really hard to have it stay where it's supposed to be," Carrie explained.
The former American Idol winner revealed her tricks to staying thin before she hosts the Country Music Awards on Wednesday.
Article continues below advertisement
"Get rid of the junk crap," Carrie said. "Lots of water and vitaminwater — it's got a lot of good stuff in it."
Catch Carrie on "In the Spotlight with Robin Roberts: Bright Lights. Big Stars. All Access Nashville" Tuesday night on ABC.