NEWS
Carrie Underwood: "Mike Fisher is the Only Guy I've Never Had to Worry About"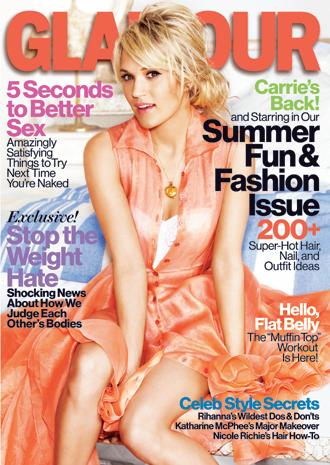 To promote today's release of her fourth studio album, 'Blown Away,' Carrie Underwood covers the June issue of Glamour and chats about how she's not one of those "weird" creative people and how husband Mike Fisher is the only man she's ever truly trusted.
OK! NEWS: CARRIE UNDERWOOD ON HAVING KIDS "WE'RE NOT READY"
Carrie — who dated Tony Romo in 2007 — gushes to the magazine about how she never has to "bat an eye" when it comes to Mike, a center for the Nashville Predators.
Article continues below advertisement
"He's the only guy I've never had to worry about. Any guy I've ever dated, there would always be that doubt: 'He didn't answer his phone. What's he doing? It's late,'" she said. "I'm not the crazy-girlfriend type, but there was a little voice in the back of my head. I don't have to worry about Mike. I don't think twice. He's going out? I don't care; it doesn't bother me. I don't bat an eye."
While she says a big drawback to their relationship is that they're both very busy and can spend "weeks" apart, the positive is that he understands her level of celebrity.
"In Canada, he was a big celebrity, so he knows what it's like living under a microscope. And he travels a lot, which is good for both of us," she told the magazine.
OK! NEWS: CARRIE UNDERWOOD TALKS HER NEW ALBUM BLOWN AWAY: "I'M NERVOUS NOONE WILL BUY IT!"
Carrie admits that "revenge songs" are always the most popular on her albums, but she describes 'Blown Away' as "happy go lucky."
"I'm not a creative person who's up until 4:00 a.m., writing songs and being weird," she says of the collaborative feel to the album. "I write with people, sharing stories, catching up."
The country crooner announced her fall tour dates with Hunter Hayes this morning! Check them out at carrieunderwood.fm.