NEWS
Carrie Underwood Not Ready to Settle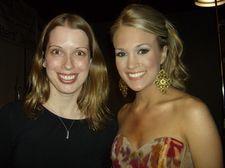 enjoys a day off from her Carnival Ride tour to blow out the birthday candles. The All-American Girl singer turns 25 today.
Does she plan to settle down soon?
"It all depends how things go," the Grammy winner, who is dating Gossip Girl's Chace Crawford, tells me. "I guess we only have certain amount of time to do certain stuff like that but I'm not going to be like 'I will be married within blank years' and grab the nearest person I see to get married. Things just have a way of happening. I'm just along for the ride."
Article continues below advertisement
Hopefully he has something special in store for her big day.