NEWS
Carrie Underwood Says Fiance Would Love Her at 800 Lbs.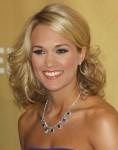 There's no such thing as a wedding diet for Carrie Underwood.
Although the award-winning American Idol champion is set to tie the knot with Ottawa Senators hockey player Mike Fisher later this year, she takes it all in stride.
"I'm not a big stressor," Carrie, 27, tells me Sunday backstage at the ACM Awards in Las Vegas. "Mike would love me if I weighed 800 pounds."
She continues, "I'm taking care of myself, which is what I always hope to do for anything. I constantly have events coming up, whether it's ACMs or other awards shows or some television appearance. I'm always trying to be my best – not just to look my best, but to feel my best, too. I'm on tour right now, so I have to keep myself healthy and take care of myself. It will be more of that."
Article continues below advertisement
The humble Oklahoma native scored a first-time feat by winning back-to-back Entertainer of the Year nods both this year and in 2009, marking the first time a woman has ever achieved the honor twice in a row.
"That's a class person and a fantastic entertainer and artist and singer," Brad Paisley says of Carrie. "It's great. I'm really, really happy that Carrie repeated like that. It's neat to see that kind of advancement in somebody's career, especially from somebody you didn't think could get any bigger."
Carrie also scored the Triple Crown Award thanks to previous wins in the Entertainer of the Year, Top Female Vocalist of the Year and Top New Female Vocalist of the Year categories."
Making history is something Carrie never expected when she was vying to win American Idol in 2005.
"Whenever I was on Idol, I was just hoping to stay there for another week," she confesses. "That was as far as my calendar would go. I don't think anybody could've possibly predicted any of this. Just because you're on Idol or you win Idol doesn't mean you're an instant superstar. There's a lot that goes into it, and a lot of it has to do with luck. A lot of it has to do with luck and fans and God. There's a lot of different factors."
She adds, "It's amazing for me to get to sit in a crowd like this. When I used to watch them on TV when I was little, they were my favorite. So now I think maybe there's some little blonde girl in a small town crossing her fingers real hard for me."
2010 is shaping up to be quite a year for Carrie.