NEWS
Carrie Underwood Wants to Work for OK!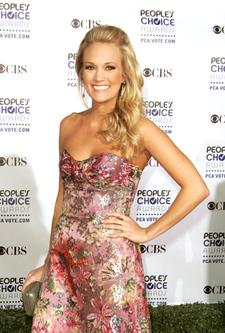 Multi-platinum, multi-Grammy winning artist Carrie Underwood is up for a host of accolades at the 44th Annual Academy of Country Music Awards at the MGM Grand in Las Vegas on April 5, including the prestigious Entertainer of the Year prize.
OK! spoke to the American Idol champ, 26, who is now dating Ottawa Senators hockey star Mike Fisher.
What's it like to be the only female in the Entertainer of the Year category?
Article continues below advertisement
I just never thought that it would happen. But I feel like there are so many other women in country music who have been overlooked over the years. I wish it was more normal to see a woman in the category.
You have quite a collection of awards already. Where do you keep them all?
I have a curio cabinet in my living room that houses them all.
How many dresses do you try on when choosing an awards show outfit?
It depends on how many I'll be wearing during the show. I should keep count — I might surprise myself.
Who's your pick for Idol this season?
I never publicly announce my favorites because they're under enough scrutiny already without me adding to it. I do have a favorite, though, and I do vote!
If you hadn't won American Idol, what do you think you'd be doing right now?
Your guess is as good as mine! I was planning on going into journalism — maybe I'd be the one asking questions for OK! magazine! You never know...
Interview by Jennifer Birn