NEWS
Carrie Underwood Won't Name 'Idol' Pick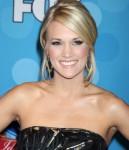 Carrie Underwood isn't naming favorites when it comes to American Idol.
The Grammy-winning country singer won the show in 2005, and doesn't want to give any of the contestants an unfair advantage.
"I do have a couple that I'm watching, but I never announce who I like because I remember when I was on the show, and people did that, and it was like 'oh man,'" Carrie, 27, says. "They're under enough pressure. I'd never want to do that."
Article continues below advertisement
But when it comes to her favorite American Idol of all time, she isn't afraid to name-drop.
"I really like being around Fantasia," she says. "I think she's such a wonderful spirit and a wonderful person. I think she's so talented. Yeah, I think she's definitely up there for me."
Carrie gives Ellen DeGeneres high marks during her first season as an Idol judge.
"I love Ellen," the Temporary Home singer says. "As a judge, I think she is doing so great. I think she's holding her own, she's so amazing, and people love her. It's one of my favorite shows to go on. I think she's doing an amazing job."
MORE ON:
Red Carpet Confidential
Even though Carrie is a huge star now, she can count on one being keeps her in line: her dog, Ace.
"Ace is so smart, he doesn't really like tricks," she says. "He can do the most amazing things when it comes to food. If it is there, he will find it, and he will eat it. He actually pulled money out of my publicist's purse one time. I didn't teach him that one. It must've had something on it. But he can get into anything, like any bag, anything, and get stuff out."
Here's my pic with Carrie:
Catch Carrie performing during the CMA Music Festival on June 10 in Nashville. Brad Paisley, Keith Urban, Miranda Lambert, Lady Antebellum, Tim McGraw, Reba McEntire, Martina McBride and Kellie Pickler will also take the stage during the four-day extravaganza.