NEWS
Carrie Underwood's Sexy Boot Slip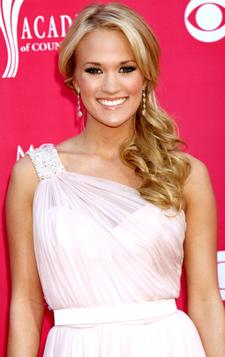 Even though Carrie Underwood already has a packed trophy case since starting her country music career, it seems the American Country Music Awards "Entertainer of the Year" still gets nervous giving speeches!
Carrie tells PopTarts she was "totally embarrassed" after making a slightly sexual remark when accepting her award from Matthew McConaughey. The hunky Texan had just finished relating a story about getting lucky with the ladies back in the day by pretending he and his brother had custom-made George Strait boots in their car.
Article continues below advertisement
"We're like, 'Oh yeah. Say, as a matter of fact, out in the parking lot, in the trunk of our white Corvette, we have the next year's new edition white ostrich quill George Strait signed series that he's gonna wear on tour next year,' " Matt told the audience on Sunday night. "And they got pretty excited about that and said, 'Well, can we see? Can we see? Can we see?' And we obliged ... Point of the story is, we got lucky that night. Thank you, George."
MORE PICS OF MATTHEW AND CARRIE:
MORE ON:
Matthew McConaughey
As Carrie accepted her trophy from Matthew, she grabbed a few laughs as she remarked, "I don't know what to say. I got nothin' ... I want to see those boots, Matthew."
And now the country star says she regrets her response to Matthew's story.
"I'm so embarrassed, I totally embarrassed myself. I just blanked," she told Pop Tarts backstage, burying her head in her hands. "You want to say something eloquent in a moment like that and I embarrassed myself. I'm sorry Matthew, I'm sorry to my family. I'm totally embarrassed."
We're sure Camila Alves understands.