NEWS
Carrie Underwood's Weight Drama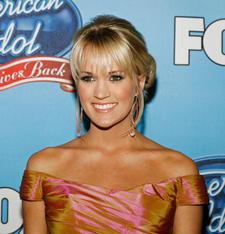 Carrie Underwood has people concerned that she's taken her healthy eating habits too far. After admitting in recent interviews that she dropped 20 pounds, Carrie, 25, is again talking about weight in the May issue of InStyle saying, "I'm contect with 90 percent of me."
Since she started out on American Idol in 2005, Carrie's hired a trainer and dropped three dress sizes, going from a size 8 to a 2. "She came to the show not knowing what Manolo Blahniks were," an Idol insider tells OK!. "She won, and it became abot what designer she was wearing, how her hair looked and that she was an 'average-sized girl.' She hated the mean things people said about her weight, and when she stressed she nibbled on cookies and chips."
Article continues below advertisement
Carrie tells OK!, "I put pressure on myself to look good because I'd look at message boards and people would be like 'Carrie's fat.'"
She confessed to InStyle that she's an emotional eater: "Ice cream is my friend. If anybody sees me eating a sundae and I look unhappy, something bad has happened. I am drowning my sorrows in fudge and caramel and whipped cream."
Carrie told pals she started eating healthier food when she saw herself on TV. She tells InStyle: " i think about what I look like probably more than I should. Some days I step out of the shower, put on my lotion and I'l be like, 'Ugh, ew, ew.'" She added, "I count calories, fat and fiber. If I put on five pounds, it's noticed immediately."
Dietician Dr. Sharon Richter, who does not treat Carrie, tells OK!, "From Carrie's quotes, I think she could have dysmorphic disorder, where you don't see your body as it is. She still sees herself as heavy when she's thin."