NEWS
Carson Daly "Sincerely" Apologizes for JetBlue Anti-Gay Joke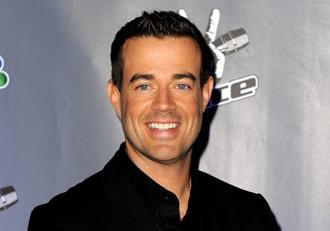 After feeling the heat from GLAAD and 9/11 victims, Carson Daly has issued an apology for a joke he made on his radio show Wednesday morning.
OK! NEWS: THE VOICE HOST CARSON DALY DISHES ABOUT SEASON 2 — "WE WON'T WHORE IT OUT"
The Voice host made a gay joke regarding the JetBlue pilot who needed to be subdued during a flight by passengers. The flight was filled with law enforcement professionals on their way to a security conference, a fact that Carson made light of.
Article continues below advertisement
"There was a bunch of… well-trained dudes," Carson said Wednesday morning on his show. "What are the odds of that? … Thank god… My luck, it would be like 'This is the flight going to the gay pride parade in San Francisco' … I mean, that would be my colleagues... 'Uh, we're headed down to Vegas for the floral convention.'… 'Can we get a little help up here with the pilot?' 'Oh, Nooo!'"
Criticism was unleashed immediately, including by a mother of a 9/11 victim.
"Yes, my gay son was known in our family for bringing me flowers on my birthday and Mother's Day," Alice Hoagland, mother of Mark Bingham, wrote in a statement (via Fox News). "He also was known for careening down the rugby pitch, and, on the morning of September 11, 2001, for charging unarmed down the aisle of a doomed Boeing 757 to face knife-wielding Islamist thugs in a hijacked cockpit."
Article continues below advertisement
Carson took to his Twitter account and issued a statement to GLAAD, apologizing.
"This morning on my radio show I attempted to make fun of myself & offended others by mistake. I sincerely apologized," he Tweeted.
He also said in a statement, "We live in a time where gay, lesbian, bisexual and transgender individuals find courage every day to overcome adversity, stand up to bullying and find equality. I'm truly saddened that my words today suggested otherwise. I've long been a supporter of gay, lesbian, and transgender rights, and I'm saddened that my comments, however unintentional, offended anyone, specifically members of the LGBT community. The fact that I have hurt anyone is devastating. I'm not that guy. I'm proud to be an ally of the LGBT community and will continue to fight with them."
Do you accept Carson's apology?