NEWS
Carson's Makeover Plan for Britney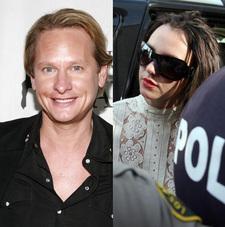 In his new show on the Lifetime Channel, How to Look Good Naked, Carson Kressley teaches women how to — well, you know!
Now, the former Queer Eye for the Straight Guy host wants to extend his makeover skills to Britney Spears. "I'd start by getting her some underwear, okay?" he says during the Skating With the Stars, Under the Stars event at NYC's Wollman Rink. "Then I'd give her a big hug and we'd all go shopping for some sensible clothes. I'd like to see her step it up a notch and wear a little Stella McCartney. It almost looks like she's wearing Strawberry. It's crazy, but I do love her."
Article continues below advertisement
Kressley adds that he'd also like to make over Brad Pitt. Wait — huh? "Just so I could take off his shirt in the dressing room over and over again," he laughs. Ahh, we get it. And we agree!
If there's one thing the style maven, 38, isn't feeling the love for, it's the leggings trend. "I think leggings are a very particular thing. On some people they look amazing and they're like voodoo magic. On other people, it's like, 'Wow, your legs look gi-normous!' It's really personal."
Kressley continues, laughing, "Personally on me, they make my butt look huge unless I do a sensible zebra print. That fools the eye."
By Valerie Nome