NEWS
Casey Abrams Not Dating Haley Reinhart But Could "Date Lauren Alaina in Five Years"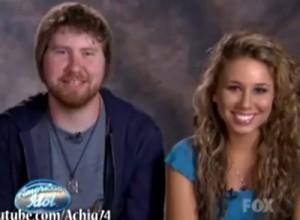 Latest American Idol cast-off Casey Abrams recently visited the OK! NYC offices and shared dirt on the big question: What, exactly, is going on between him and Haley Reinhart?
Well, for one thing — they are not dating. But when Steven Tyler questioned the two of them last week, Casey didn't deny it.
"Well, I mean, it's a question that's gonna be asked when you're singing about love and looking into each other's eyes," he shared with OK!. "So, like, of course. That happens in movies all the time, you know, like, uh…there's no good examples, I'm sorry. But you know what I mean? It's like, 'Are they really in love?'"
Article continues below advertisement
He added: "I thought it was obvious that we weren't. I saw it in magazines and I was like, 'Oh, rumors, rumors, whatever, people.' Then I realized it was getting out of hand when one of my best friends said, 'I'm pissed. Why didn't you tell me this?' I'm like, 'Why are you believing this stuff?' "
Despite not dating Haley now, does Casey think he ever would?
"Would I? I don't know. No. I never would. Ever," he said jokingly. "No, the thing is that we're such close friends, so it would probably ruin the friendship. But I only know her in the Idol world, but who knows? Maybe I could date Lauren Alaina in, like, five years. That's why I don't wanna say no or yes. Maybe I'll be dating Pia Toscano, maybe she'll call me up tomorrow and want to date me."