NEWS
Casey Abrams: The Other Male 'Idol' Contestants are Sexier Than Me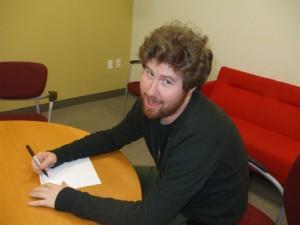 Jennifer Lopez may have called Casey Abrams "sexy" but he did not believe it! The latest American Idol castoff stopped by the OK! NYC offices and explained that he is baffled by the idea that he is "sexy."
"First I was like, 'you are crazy for saying that,' " Casey exclusively told OK! about J. Lo's compliment, seeming truly dumbfounded. "I'm not like… it's just weird that out of Stefano Langone and Paul McDonald and James Durbin and all those people, I was called the sexy one. That baffles me and I think it's kinda wrong."
Article continues below advertisement
Who would he say is the sexiest member of the 2011 Idol family?
"I mean Stefano, don't you think? I'd say it's a toss up between Stefano and Paul," he shared. "I think people like the ruggedness of Paul and the fact that he likes the fart jokes, he just doesn't care. Stefano and Paul are opposites though but they're probably equally as sexy. Like Stefano looks in the mirror and combs his hair and makes sure his shirt's perfect, whereas Paul gets out of bed and walks to the studio."
Sexy Casey also got quite the reputation for kissing everyone in the audience (J.Lo included)!
"I think I've set a record," he said of his lip action. "Like out of all the seasons."
Where did that confidence come from?
"It came from this 'I don't careness,' I don't know. It came from the fact that you should always do something different. You should always turn heads," he explained. "Lady Gaga always does that and Bruno Mars kinda does that, you know just like do random things."