NEWS
Casey Affleck Reveals Joaquin Phoenix Documentary Not Reality; "Terrific Performance"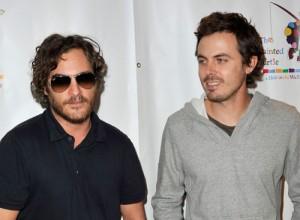 The air has finally been cleared on the mystery surrounding Casey Affleck's highly-publicized new documentary, I'm Still Here. Casey has admitted the film — which follows a self-destructing Joaquin Phoenix as he tries to emerge in the hip-hop arena — is in fact not real, but rather a "terrific performance," by his brother-in-law.
"I never intended to trick anybody," Casey told the New York Times (via PopEater)."The idea of a quote, hoax, unquote, never entered my mind."
Article continues below advertisement
So why did Casey remain mum on the actual validity of the film until now?
"We wanted to create a space," he said. "You believe what's happening is real."
To create the concept of reality in the film, Joaquin played the role off-screen as well for over two years. In his now infamous appearance on the Late Show With Dave Letterman in 2009 Joaquin mumbled and could barely form sentences leaving the host and audience completely confused.
OK! NEWS: JOAQUIN PHOENIX RETURNING TO THE LATE SHOW WITH DAVID LETTERMAN
On screen, Joaquin participates in a downward spiral of events from snorting drugs to hanging out with hookers and going on a hunt to destroy an assistant who betrayed him. The people involved in these situations in the film are also actors.
"There were multiple takes, these are performances," Casey told the NYT of the cast.
The actor and director remains steadfast in his approach.
"It's a terrific performance, it's the performance of his career," he said of Joaquin's two-years of role-playing and performing for the film.