NEWS
Casey Anthony Not Free Yet: Sentenced to Four Years in Jail for Lying to Cops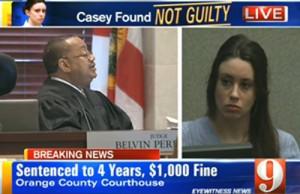 After being found not guilty of the first degree murder of her 2-year-old daughter, Caylee Marie Anthony, on Tuesday, Casey Anthony was sentenced to four years in prison today with fines totaling $4,000 for providing false information to law enforcement officials. But Casey could be granted her freedom as early as next month.
Judge Belvin Perry deemed that Casey was entangled in four "separate and distinct lies" when she led cops on a wild goose chase to find her missing 2-year-old. She did not report her daughter missing until 33 days after the fact, and not until December 2008 was Caylee's body found in a garbage bag in a wooded area close to Casey's home.
Article continues below advertisement
This morning she received four years in jail for providing false information to a police officers, but she won't be behind bars for the whole time.
Judge Perry said Casey would get credit for time she already served in prison (over two years) and also for good behavior, but he called for a recess to determine how much time that would be, Radar Online reports.
Because Casey served more than two years in jail in Orlando, Fla., she could get out of prison in late July or early August.
OK! NEWS: KRISTEN STEWART TOP PICK TO PLAY CASEY ANTHONY IN HOLLYWOOD MOVIE?
On Tuesday afternoon the nation was left shocked when Casey was of first-degree murder of her 2-year-old daughter, Caylee Marie, by the jury — consisting of seven women and five men. She was also found not guilty of aggravated child abuse and not guilty of aggravated manslaughter.
The jury's decision was read aloud from inside the Orlando, Fla., courthouse after 33 days of dramatic testimony and almost two days of emotional closing arguments.
Casey's innocence means she has escaped the death penalty.