NEWS
Cash Cab's Ben Bailey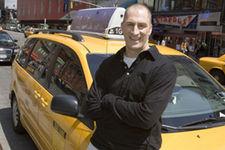 Flagging a cab is part of the New York City experience, and if you're really lucky, you'll catch a ride with Ben Bailey. He's host of Discovery Network's Cash Cab, an impromptu trivia game show that happens during your ride, which returns with new episodes tonight. And yes, he does have a valid license from the Taxi and Limousine Commission!
"I had to become a licensed taxi driver to host the show," he tells me. "I had to go to school and pass the test." That includes knowing there are 11 bridges between Manhattan and Queens. (Ben easily rattled off five.)
Article continues below advertisement
The 6'6 triathlete actually memorizes the questions and answers he drills on unsuspecting contestants before he starts the day. But Ben admits he's got a pretty good track record of knowing the answers on his own. "The guy who rides shotgun that you never see, he quizzes me before the game starts, and I usually know the majority of them. I would say I about 60 percent."
Ben has developed a faithful following — with fellow cab drivers! "It's funny now because they recognize me, and they start asking me questions about their homeland, which is pretty hard," he laughs. "Sometimes the guys who drive the mini-vans are mad at me because people hail them all day hoping it's the cash cab. They stop and people see it's not them, and they wave them on. But most of them like it."
Catch Cash Cab daily at Discovery Channel.