NEWS
Cast of 'Blue Crush 2' Chats With OK!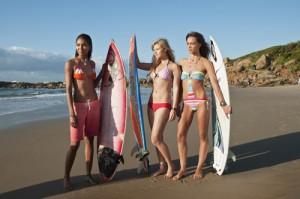 It's been nine years since we saw Kate Bosworth riding the waves in a bikini in Blue Crush. Now, a whole new cast is bringing it back in its second installment, Blue Crush 2. Sasha Jackson, Sharni Vinson, Elizabeth Mathis and pro surfer Rosy Hodge stopped by the OK! offices to talk about the exciting new DVD Original version that comes out June 7.
Here are five reasons OK! loves the cast of Blue Crush 2:
Article continues below advertisement
1. The original cast approves: "I was actually supposed to go to dinner with Kate (Bosworth). One of my best friends is actually just really good friends with her," says Sasha, who plays Beverly Hills beauty Dana in the film. "And she was like, 'I told Kate about you in Blue Crush!'"
2. They rock killer bikini bodies: To look hot in the swimsuits, which were provided by Roxy, the girls mixed it up with breathing techniques, yoga, dance classes and of course, surfing. "It was great because it not only gave me confidence as a surfer, but it got me stronger," says Elizabeth, who plays South African native Pushy.
3. There's more action: "There is no point in creating the sequel to anything if you don't plan on making it in some way bigger or better. I think that this one kicks ass even more!" says Sharni, who plays queen bee surfing champ Tara.
4. They surf with pros: Pro surfing champion Rosy not only made an appearance in Blue Crush 2, but she showed the cast how to shred the Supertubes of South Africa. In addition, she served as the surfing double for Sasha. "I love the idea of doing dangerous things in controlled environments. It was the best thing ever!" says Rosy.
5. They shot in South Africa: "We were shooting during the World Cup," Elizabeth says. "It was exciting and people were really energetic and the country was just alive! We really tried in this movie to keep it authentic and to keep South Africa as another character."
OK! VIDEO: ALEXANDER SKARSGARD ATTACKS KATE BOSWORTH IN STRAW DOGS TRAILER
Catch the official Blue Crush 2 trailer below!
By Evan Real