NEWS
Cast of 'Nine' Chat & Confide on 'Larry King Live'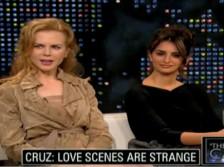 All nine of the cast of Nine made an appearance on Larry King Live Tuesday where they shared — sometimes all of them at a time — the secrets from set. Nine has already been nominated for five Golden Globes, but the public won't see it worldwide until Christmas day.
Kate Hudson, Nicole Kidman, Marion Cotillard, Fergie, Penélope Cruz, Dame Judi Dench, Daniel Day-Lewis, Sophia Loren and director Rob Marshall were all present — well, Sophia was by video — to discuss how difficult the auditioning process was, who brought their kids to set, how weird love scenes were to shoot, how excited they are about their Golden Globes nominations and of course what they're plans are for the holidays!
Article continues below advertisement
There was some debate amongst the cast over how they were chosen and how they had to audition for their parts.
Nicole had an easy enough time getting her part, she met with Rob and was told about her part.
"I think we had lunch or coffee or something," Nicole said. "And he said that Anthony Minghella had written a role for me."
"It's a bone of contention, actually, between Nicole and I," Dame Judi added. "Because Nicole was asked by Rob to have lunch and was asked to do the part. I was just asked to have a coffee."
Penélope auditioned for three different roles in the film and said she met with Rob about it nearly two and a half years ago.
"I just knew I wanted to be in part of this movie," she explained. "I said to him, 'I don't care which character, just have me there on the set cleaning the floors just to learn,' because I admired him so much. And then he called me one day and he said, 'I have decided that I want you to be Carla.'"
Article continues below advertisement
Fergie had a little more trouble than the rest as she was the last to be cast and had to wait to hear the good news.
"I wanted it so badly," she said. "A few weeks went by and I was hoping. And every day I would think about it. I basically gave up on it and said 'Well, I would have heard by now. I guess I didn't get it.' And about a week later I got a call from Harvey and I screamed."
From then on it was all about hard work on set, including taking care of babies!
Nicole brought newborn Sunday Rose to set. "It was when she first came, she was six weeks old. And everyone was really nice to her." To which Rob and Marion said "was beautiful."
But don't worry — the baby wasn't around for the filming of Penélope and Daniel's love scene!
When Larry asked Penelopé if she enjoys doing love scenes she got a little confused by the question at first, but then answered "no."
Article continues below advertisement
"It's always a very strange thing," Penélope explained. "I mean we had the best director and I was in the best possible company, but it's always something strange, right, Daniel?"
To which Daniel added, "We had to laugh."
"And, God, we laughed a lot together because you have to bring humor to those situations," Penélope added.
All the cast members are excited for their Golden Globes nominations, but Marion is especially humbled for her Best Performance by an Actress in a Motion Picture - Musical or Comedy.
"It was so amazing that I really wanted to keep it out of the fantasy, out of thinking, oh, if this happens, if that happens," Marion said about her nomination. "So I really — and being nominated with Cate Blanchett was something huge for me. So I really wanted to enjoy the present time and to enjoy it, you don't have to think about what's -- what could happen."
Larry especially wanted to know what Kate is looking forward to next in light of her rumored split with Alex Rodriguez.
Article continues below advertisement
When Larry asked Kate how A-Rod is she said, "Good. Really good," and didn't elaborate any further.
Larry asked Kate what's next for her and she gave the obvious response.
"Christmas, she said. "Christmas shopping. I'm trying to wrap my head around that and the family. But for work, I start a film in January where I play a girl that's dying of cancer."
Everyone agreed on looking forward to a little break from their busy schedules and it sounds like they deserve it!