NEWS
Catalina Sandino Moreno Unemployed For Two Years After Oscar Nomination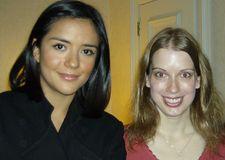 Life won't necessarily be rosy for Oscar nominees post-awards.
When I caught up with Catalina Sandino Moreno, she confessed she had trouble finding work after her nomination. The 26-year-old Colombian beauty was up for best actress in 2005 for her role in Maria Full of Grace.
"A lot of people saw Maria Full of Grace, which was a great thing for me because I was new," she tells me. "That was my first movie."
Article continues below advertisement
"But an Oscar is not going to make you have better scripts. It's not. I spent two years after the Oscar nomination without work because all the scripts I was not ready for them."
"Then I got Fast Food Nation, which was a role I did like. But I think the Oscar helped for people to see me in this little film."
I can't wait to see who wins this year.
Catch the 80th Annual Academy Awards airing Feburary 24.