NEWS
Catch President Obama on 'Mythbusters' Tonight!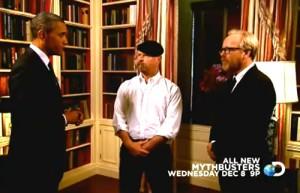 Tonight the highly-anticipated episode of Mythbusters featuring President Barack Obama hits your living room! The beloved Discovery Channel series — which the prez himself dubbed as "pretty cool" — will tackle Archimedes' Solar Ray tonight from the White House!
Obama has made it no secret that he is a "big fan" of the series, and his daughters Sasha and Malia helped come up with the myth of Archimedes' Solar Ray.
Article continues below advertisement