NEWS
Catch Tonight's 'One Tree Hill'/'Life Unexpected' Crossover Event!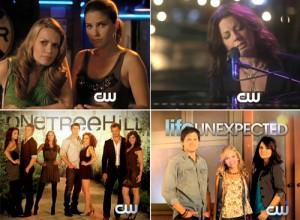 If you're a fan of One Tree Hill (and who isn't — have you seen the outfits they put Sophia Bush in?) or Life Unexpected (ditto — except the outfits are now "random wool things" and they are on Brittany Robertson's head) or of Sarah McLachlan (no weird outfits to speak of), then you'll want to watch The CW tonight at 9 p.m.
How come? Because that's when the network will be airing it's much-anticipated (by us, anyhow) O.T.H. / L.U.X. crossover episode featuring — tada! — the vocal stylings of one Sarah McLachlan.
Article continues below advertisement
You can thank us with cake. Or with nice comments below. Whichever.
Catch some clips of the crossover extravaganza below!
Mia Needs Help on One Tree Hill.
Mia and Haley on Life Unexpected.
Sarah McLachlan performs on Life Unexpected.