NEWS
Catching Up With Ed Westwick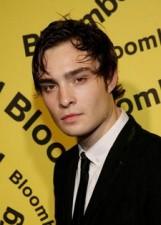 Gossip Girl's Ed Westwick takes to the silver screen for the wacky British comedy Son of Rambow, which is in theaters now.
The flick set in 1980s England tells the tale of young boys who emulate Rambo.
"Sylvester Stallone saw it in January," director/writer Garth Jennings says. "It's great to have his blessing."
Brit Ed, 20, chats about the film.
How did you relate to your character, who is mean to his brother?
Article continues below advertisement
I have an older brother who was mean to me. In later years, he realized I am his little brother and not his enemy so he became more sweet to me.
Whenever you've got an older brother and a younger brother, you've got the dynamic in the relationship where there's going to be – not bully -- but you treat your brother like – for the lack of a better word – s***.
Otherwise, I remember when I was a kid there were so many days when my mom was trying to start the car in the morning. The old '80s cars. Fantastic.
Ever see Rambo?
The Stallone one? I did. I don't think anyone thought there'd be anything like this. When you think about Rambo, you think action-packed blood, guts and gore, and you think 'how can you incorporate that into a story that's about two small children in England in the 1980s about their friendship?'
Do you feel like you missed out on being a teen in the 1980s?
No, I don't think so, because the '90s wasn't so bad. We started having mobile phones and things like that, so we were all right. And Playstations. I don't think we missed out.
Article continues below advertisement
How are you dealing with being recognized?
It's been a rollercoaster with Gossip Girl. It's something that's been a hell of a lot of fun. When you're on a TV show, yes you're going to get recognized. This one guy gave us lunchboxes. He had lunchboxes made for everyone on the set, which is kind of weird but it's quite cool. People come up to us and recognize us. They ask us for pictures and for autographs. They tell us how much they love the show, and that's a good thing because it means the show is being watched albeit sometimes the numbers say otherwise.
What film had the biggest impact on you growing up?
It was the Stephen King film It. That scared the s*** out of me. That was a pretty bad experience for me. I spent about two years getting over that film. No, I did. It was on television once, and it was pretty traumatic. That's it for me.
What was it exactly about It?
It was the drain. Aw, why are you bringing back the experience, man? Billy the young boy … goes out with his boat, and it goes down the drain. That's the most frightening thing ever. I'm going to walk out of here shaking.
Article continues below advertisement
Anything remind you of it?
I used to get scared when I'd go out in the street and play football – soccer – and it used to rain. The drain outside, you'd be looking at it, and I would get freaked out a lot.
Any film you'd like to reenact?
It definitely. I'd have my revenge and I could play the clown – that would be good, definitely.
How does British humor compare to American humor?
I always thought there wasn't any sarcasm in American humor – sorry – but there is, a lot. That's held for The Office. The platform in England is very similar for the platform on The Office here.
Son of Rambow is out now.
Pick up the OK! on newsstands now for Ed's take on Gossip Girl. Britney and Jamie Lynn Spears/Sisters Reunited is the cover line.