NEWS
Catching Up With Ellen Page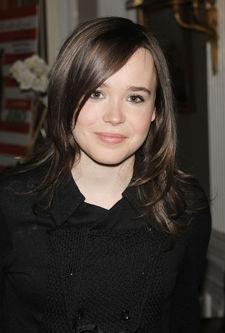 I met up with , 21, just before her movie Juno came out. The best-actress Oscar nominee was just as excited as the character she plays. Listen up...
What was it like working with Jennifer Garner in Juno?
It was great. I adore her. She's incredibly down-to-earth, wonderful, warm, awesome mom – just a really beautiful person. I think she's really amazing in this film. She's extremely subtle, and I think it's an absolutely amazing performance. I feel really lucky to have worked with her on a project like this, which I don't think she's been seen in often. I think she really nails it.
Article continues below advertisement
Do you get noticed these days?
Yeah! It's funny because X-Men happened, and people kept being like 'your life's going to change.' I pretty much knew it wasn't, because yeah, I'm in X-Men, but I'm just the girl who runs through walls. Unless you're a big X-Men fan, you're not going to remember the character's name. That didn't really change much except when I'd be with my good friend Ben Foster. Usually they recognize him, and they'd be like 'oh yeah, and you're that girl.' I'm like 'he had wings – whatever.'
The Hard Candy thing happens a lot, especially when I travel to other places. Not a lot of people saw it in America, and I understand why. It's not really an American kind of movie. In the U.K., it did really well. I was just backpacking in Eastern Europe, and every hostel I stayed at – almost every hostel I stayed at, except for one – I'd get recognized. It was the weirdest experience.
One Irish girl freaked out. She was screaming. It was weird for me, because I'm dirty, I'm in Serbia, and I'm playing the guitar. This Irish girl is baffled at how I'd be there, and I'm baffled at how she's doing that. It's very bizarre.
I get the guy thing a lot. I'm like 'you know what? You can get over it.' I feel like there's how many shows on TV that could be called "Naked Women In The Dumpster Part 7 – Who did it? Who raped her, and cut her and threw her in the dumpster?" So anyway, I think guys can handle one movie. I mean, come on. I didn't even do anything.
Would you like to direct?
I would love to, but it scares the bejeezus out of me. I try and write, and then I realize it sucks and I delete it. I don't feel remotely confident and right now, I feel like it would be contrived because there's nothing that's compelling me. I don't know when that would ever be. I feel like it would be a difficult thing.